---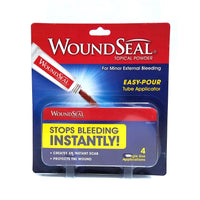 WoundSeal Topical Powder, 4 Count, 0.2 oz, 1 Pack By Biolife LLC
For minor external bleeding

Easy pour tube applicator

Creates an instant seal (or scab) over the wound 

The seal is safe to leave in place until it falls off naturally and the wound heals.

Protects the wound
Instructions: 
If possible, clean wound and apply powder after bleeding resumes; blood must be present for powder to work.
Twist cap to remove.  Puncture foil with end of cap to open
Pour Powder onto bleeding wound to cover completely
Press for 30 seconds to form a protective seal (scab) and stop bleeding
Repeat application as needed. For optimal powder flow, Do Not squeeze tube when pouring.  Protective scab may be left in place until it falls off naturally.  Avoid wetting for 1 hour.

Occasionally, upon application a temporary warming or stinging sensation may be felt.
Wound Coverage Area:
One tube is sufficient to cover a wound are up to 3.9cm (0.6in) to a depth of 2mm.
Ingredients: 
Hydrophilic Polymer 

Potassium Ferrate.
Warnings:
For external use only. Not intended to replace stitches.  Do not apply powder to visibly infected wounds.  May be harmful if inhaled or ingested.  Avoid aspirating the product into the nasal or oral cavity.  Avoid contact with eyes.  If contact should occur, thoroughly rinse eyes with water.  Keep out of reach of children.
Cautions:
Store in a clean, dry place.

Use by expiration date listed. 

Discard if product is damaged, opened, or if powder has clumped and does not flow freely. 

Discard contents after use since powder is guaranteed to work only if it has not been left exposed to air or humidity
UPC: 834061000040