---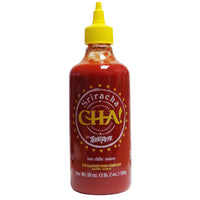 Sriracha Cha! By Texas Pete Hot Chile Sauce 18 Oz, 1 Each:
Hot and tangy, with just a hint of sweetness, perfect straight out of the bottle or added to sauces and marinades

Use it as a flavorful addition to noodles and soups, or drizzle it on pasta, pizza, hot dogs and hamburgers for the ideal spicy flavor 
Ingredients: Made of Chile, Sugar, Garlic, Salt, Vinegar, Potassium Sorbate (to Preserve Freshness and Flavor)

Directions: Remove cap and break foil seal before using. For best quality, refrigerate after opening.
Made in: United States 
UPC: 075500005206