---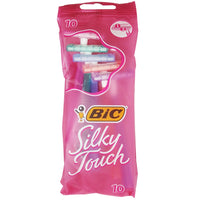 Bic Twin Silky Touch Women's Razor, 1 Pack Of 10 Each:
Has twin blades to deliver a close and comfortable shave

Suitable for shaving legs or underarms

Disposable razors
1 Pack of 10 Razors
Directions: Try shaving at night instead of in the morning, when you are calmer and not rushing. This also allows your skin to recover its suppleness overnight. Clean your skin before shaving. Underarm hair grows in different directions, so you can shave in multiple directions. For smooth knees, sit down in the bathtub while shaving and bend your knees to stretch out the skin.
Made in: Greece
UPC: 070330916104