---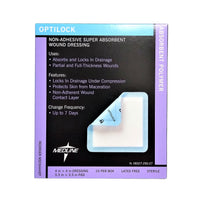 OptiLock Nonadhesive Super Absorbent Wound Dressings, 4"x 4", 1 Box of 10, MSC6444EPZ:
Uses:
Absorbs and locks in drainage
Partial and full-thickness wounds
Locks in drainage under compression
Protects skin from maceration
The non-adherent wound contact layer
Change frequency: up to 7 days
4 in x 4 in Dressing 
3.3 in x 3.5 in pad
Latex-free
Sterile
Direction:
Remove OptiLock from the package.
Place the white side of dressing on the wound. Use a large enough dressing to cover the wound and surrounding skin.
Secure the dressing with tape or other secondary dressing such as the elastic net.
Note: Do not cut Optilock.
Contraindications: Third-degree burns. Known sensitivity to the product itself or its components. Do not use on exudating or minimally exudating wounds.
Storage: Protect from freezing. Avoid excessive heat. Sterile in the unopened, undamaged package. Single-use only 
UPC: 30884389111271