---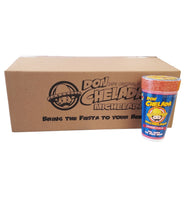 Michelada Beer Cups, Original Flavor, 1 Pack of 24 Cups, By Don Chelada
Fill with an ice-cold beer
Beer booster and hangover helper

No. 1 Michelada cup in the US

Bring the fiesta to your beer!
1 Pack, 24 Count Cups
Instructions: How to Prepare Your Don Chelada: Take off the lid and empty the enclosed spices into your cup. Fill with 24 ounces of your favorite beer. Pour slowly so the suds can settle. Once your Don Chelada Michelada is filled, stir and enjoy! Our rich formula allows for an additional 12 oz beer to be added when you're halfway into your Don Chelada. Don't stop there, depending on your taste, you can add one last beer.
Made in: United States
Nutrition Facts
serving size 1 24oz cup-12Grams
serving Per Container 1
Calories: 15
Calories from Fat: 1
                       %Daily         Value
Total Fat           0.3             0.5%
Saturated Fat   0.0             0.0%
Trans Fat          0.1             0.0
Cholesterol     0.0              0.0%
Sodium          540mg        20%
Carbohydrates 0.5g          1.8%
Dietary Fiber  0.0              0.0
Sugars             0.5g          0.0
Protein           0.4g            0.0
Vitamin A                         15%
Vitamin C                         15%
Calcium                            15%
Iron                                   15%
Percent daily values are based on a 2,000 calorie diet, Your daily values may be higher or lower depending on your caloric needs.
UPC: 10858576005007