---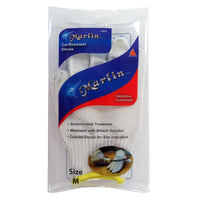 Marlin Pro Cut Resistant Gloves Size Medium #75737, 1 Each, By Marlin Works Inc.
These gloves are specifically designed for use with all Marlin Pro famous Ultimate Edged Knives. Cut-Resistant gloves offer a combination of stainless steel wire and specially engineered fiber yarns for the ultimate cut resistance. From the experts in ultimate sharp edges for ultimate hand protection.
Meets ASTM 1790-97 standards for cut resistance
Antimicrobial Treatment
Washable with Bleach Solution
Colored Elastic for Size Indication.
Manufactured By: Service Tool Co.
UPC: 782021757377