---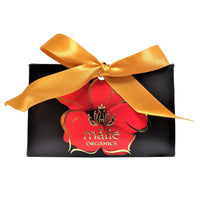 Malie Organics Hibiscus Perfume Oil 10 ml Manufactured By Malie Organics
Experience the refreshing, soft scent of Hawaiian hibiscus, a subtle, yet complex layering of soft, herbal notes that create a serene ambiance. Offering clean, contemporary top notes of green grass giving way to warmer fresh hibiscus, ocean breeze, and ylang blossom, finishing with moss and soft white musk for a uniquely universal scent.
Let this pure, sensual aroma become your exotic signature, revealing the natural bounty of Hawai'i and the essence of paradise in every drop.
Malie (pronounced mah-lee-ay) is calm, serene tranquility.
70% Organic Ingredients:
Organic sunflower oil, kukui nut oil, organic extra virgin coconut oil, vitamin E oil, Hawaiian hydrosol, fragrance.
UPC: 748252513427
Made in: United States