---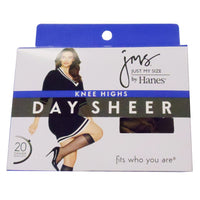 Just My Size Knee Highs, Reinforced Toe, Suntan, 1 Box of 4 Pairs, By Hanesbrands Inc
One size comfortable legwear solution for everyday comfort and to stay in place. 
Features a wider leg band, fits women from 4'11" to 6'0" and weighing 170 to 284  lbs.
Day sheer, 20 denier appearance, color: suntan.
Directions: Remove from package, roll leg band outward towards the toe to be able to roll over foot easily. Unroll the leg band upwards until it reaches the knee. Repeat on other legs. 

Ingredients: 100% Nylon

Made in: USA

UPC: 074200887211