---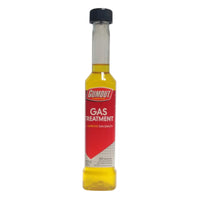 Gumout Gas Treatment, 6 Fl Oz, 1 Bottle Each, By Illinois Tool Works Inc
Improves Gas Quality
Helps Protect Your Fuel System
Removes Water to help reduce gas line freeze
fights Rust and Corrosion
Treats up to 21 Gallons
Directions:
Add entire bottle to nearly empty fuel tank, then fill tank with up to 21 gallons of gasoline fuel. For best results, do not refill tank until nearly empty.
Danger:
Contains petroleum distillates. Prolonged and repeated skin contact may cause drying of skin.
KEEP OUT OF REACH OF CHILDRENWarning:
This product contains a chemical(s) known to the State of California to cause Cancer.
Precautionary Measures:
Keep away from heat and flames. Avoid breathing of mists and vapors. Use only in well ventilated areas. Avoid repeated and prolonged skin contact. Wash thoroughly after handling.
First Aid:
If swallowed, do not induce vomiting. Call physician immediately. If inhaled, breathe fresh air. For skin or eye contact, wash thoroughly with water.
Made In:
USA
UPC:
071948900882