---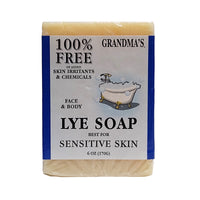 Grandma's Pure & Natural Lye Soap Bar for Dry Skin, 6 Oz. Bar, 1 Each, By Grandma's Pure & Natural:
Skin-safe lye soap
For face and body
Ideal for dry skin
Detergent and fragrance-free.
Can be used for Psoriasis, Eczema, Teenage Acne, Poison Ivy and Poison Oak Rash.
Keeps mosquitoes and chiggers away.
Lye is used in the manufacturing process but is burnt away leaving the soap pure.
6 oz. bar 1 each
Ingredients: Lard (Food Grade); Water (Aqua) Sodium Hydroxide (Lye)
Made in: United States
UPC: 072711600183