---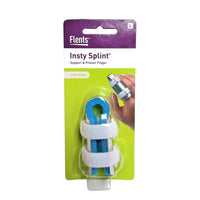 Flents Insty Splint, 1 Pack Each, By Flents Products:
Flents Insty Splint helps support and protect the injured finger during the healing process.
Thick foam padding keeps the finger dry and comfortable.
Adjustable hook & loop straps stabilize and prevent reinjury.
Two-sided tapeless design fits any finger
Directions:
Place the finger in the center of the splint and gently apply pressure around to mold fit.
Fasten straps to hold the splint in place.  The splint should be snug, but not tight.  If finger blue, cold or numb, the splint is too tight and should be loosened.
Note:  If the finger is fractured, dislocated or if redness, numbness, swelling, or pain occurs, seek medical attention.
Caution:
For adult use.  Not intended for children under 12 without supervision.  If the skin is broken, apply sterile gauze over the wound before applying the splint.  Inspect product before each use.  Replace if damaged or shows signs of wear.
Made in: United States
UPC: 025715974842