---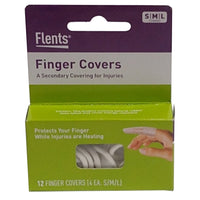 Flents First Aid Cots - Protection For Finger Tips, 12 Each, By Apothecary Products:
Provide temporary protection for your fingers while injuries are healing

4 each size S/M/L

Protects cuts, burns, and blisters from moisture and dirt
Directions: Place finger to be covered in the center of Finger Cot with roll facing out. Carefully unroll Finger Cot by pushing down to the end of the finger. Finger Cot should fit closely to the base of the finger. To remove Finger Cot, reverse process. Roll Finger Cot up the finger. Avoid touching the contaminated side of Finger Cot.
Made in: United States
UPC: 023185144055