---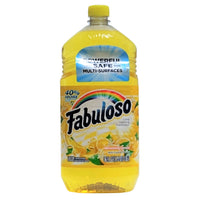 Fabuloso Multi-Purpose Cleaner, Refreshing Lemon, 56 FL OZ., 1 Bottle Each, By Colgate-Palmolive Company
No-rinse, easy-to-use formula leaves no visible residue

Leaves a fresh scent of lemon for you and your guests to enjoy

Multipurpose Cleaner for the Kitchen, Bathroom, and more
Powerful and safe for multi-surfaces & cleans with 24 hr lasting scent
Use on: sinks, toilets, tubs, showers, floors, sealed wood surfaces, appliances, counters, windows, mirrors, walls, doorknobs, and furniture.

WAYS TO USE: With a sponge: pour on a sponge and clean.
With a bucket: Mix 1/4 cup in a gallon of water.

CAUTION:
MAY IRRITATE EYES. KEEP OUT OF REACH OF CHILDREN.
DO NOT SWALLOW. DO NOT HEAT. Use in a well-ventilated area.
Do not mix with other household cleaners to avoid irritating fumes.
FIRST AID: IF INHALED: Move to fresh air. IF IN EYES: Remove contact lenses, Immediately rinse eyes with water for 15 minutes. If irritation persists, contact physician. IF SWALLOWED: Rinse mouth , and then drink 1-2 glasses of water. Contact a poison control center or a doctor immediately.

Made in: USA
UPC: 035000470416