---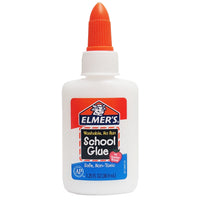 Elmer's Washable, No Run School Glue, 1.25 Fl. Oz., 1 Each, By Borden:
For school and home projects using paper, fabric, ceramics, cardboard, wood, and more

It' no run formula allows you to adjust projects before the glue fully sets

1 Elmer's Washable, No Run School Glue
Specifications
Material Compatibility:  
Cardboard, Fabric, Leather, Paper, Wood
Product Type: All-purpose glue
Features: Washable, Non-toxic
Color On Application:

 
White
Instructions: To Open/Close: Twist cap to open. Always close the cap tightly and store upright. Application: Use on clean, dry surfaces over 60 degrees F. For paper, cloth, etc. spread thinly - press - let dry. For wood, pottery, etc. spread heavily - weight or clamp, wait 35 minutes (overnight for full strength). Clean-Up: Use a damp cloth before glue dries. If dried, wash with soap and water. To Wash: Pre-soak 10 minutes in cold water. Follow garment maker washing instructions.
Made in: United States 
UPC: 026000003018