---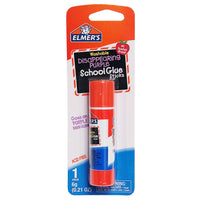 Elmer's Washable Disappearing Purple School Glue Stick, 0.21 Oz., 1 Ct., 1 Each, By Borden:
B

onds to paper, cardboard, foam board, display board, and more

Perfect for arts, crafts, and school projects

Smooth, clump-free results at home, school, or on the go
Instructions: To Open/Close: Pull up cap with a twisting motion. Turn base clockwise to raise stick - counter-clockwise to retract. After use replaces cap tightly to prevent drying product out. Application: Spread glue evenly on one surface. Combine immediately and press down. For stronger bonds apply to both surfaces. Clean-Up: Wipe excess with a damp cloth. If necessary, soap and water may be used.

Made in: United States 
UPC: 026000005135