---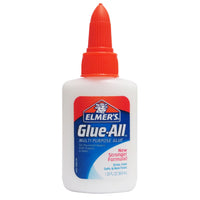 Elmer's Glue-All Multi-Purpose Glue, 1.25 Fl. Oz., 1 Each, By Borden:
Perfect for household repairs, craft and school projects, and more!

Ideal for use in the kitchen, garage workshop, and den

Bonds to paper, fabric, leather,  wood, ceramics, and more

Can handle workshop and garage work, kitchen repairs, and other demanding applications
Directions: To open/close: Always close cap tightly and store upright.
Application: Use on a clean, dry surface over 60 degrees F. For paper, cloth, spread thinly, the press let dry. Clean up: Use a damp cloth before glue dries. If dried, wash with soap and water. To wash: Pre-soak 10 minutes in cold water. Follow garment maker washing instructions.

Made in: United States
UPC: 026000013239