---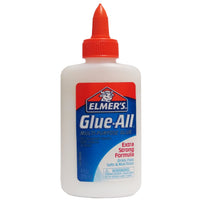 Elmer's Glue-All Multi-Purpose Extra Strong Glue, 4 Fl. Oz., 1 Each, By Borden:
Permanently attach items to paper, ceramics, leather, fabric, wood, and more

Ideal for school projects, household jobs, and crafts

Can handle kitchen repairs,  garage work and workshop, and other demanding applications
Application: Use on clean, dry surfaces over 60 degrees F. For paper, cloth, etc. spread thinly - press - let dry. For wood, pottery, etc. spread heavily - apply pressure with clamp or weight, wait 35 minutes for the bond to set. Allow sitting overnight for full strength. Clean-Up: Use a damp cloth before glue dries. To Open/Close: Twist cap to open. Always close the cap tightly and store upright. Note: Not for photos, bare metal, submerged, or heated surfaces. 

Made in: United States 
UPC: 026000013222