---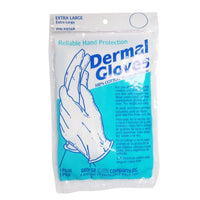 Dermal Extra Large Gloves, 1 Pair, 1 Pack Each, By George Glove Company:
For use at night with skin cremes and lotions
Softens skins with regular use
Wear under latex or vinyl examination gloves as a liner
At work and home protects valuables such as silver, gold, and film from skin oils
Instructions:
Before retiring:

 

1. Wash hands thoroughly. 2. Apply favorite hand cream or lotion. 3. Wear Dermal Gloves through the night to improve the conditioning effects of your hand lotion. 4. Upon arising, wash hands with glycerin, lanolin, or similar oil-based beauty soap.
UPC: 032952692484