---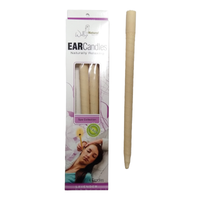 Wally's Natural Ear SoyBlend Candles, Lavender, Spa Collection, 4 ct, 1 Pack Each, By Wally's Natural, Inc.

Provides a deep relaxation that affects both mind and body.
Relaxation from the inside out.
Sustainable Beeswax.
No animal testing.
Safety tip filter.
Latex-Free
Easy to light edge.
Hand Crafted candles
Highest quality ear candle.
Encourages reduction in stress.

Guidelines for use:
Protect hair, skin, and clothing. Light the wider less tapered end. Place the thinner end in the ear. Relax unwind enjoy. Stop burning 4" from the tip at the stop burn line.
Instructions and safety warnings are printed inside this box in English and Spanish.
Consult your physician prior to use.
Do not use them if you have tubes in your ears, perforated ear drums, or artificial ear drums.
This is NOT a medical device and is not intended to treat or cure a condition of the body.
Ingredients
: Cotton Muslin, Soy Wax, Candelilla Wax, Lavender Oil
Made in:
USA
UPC:
609280600148