---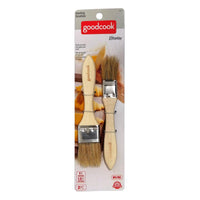 Goodcook Basting Brush, 2-Piece, 1 Pack Each, By Bradshaw International, INC.
Great for Brushing on Your Favorite BBQ Sauce or Marinade

Brush on butter, oils, glazes, & more
Natural bristles for use with pastries, bread, or meats.
Comfortable wood handles are easy to grip even when wet or greasy.
Natural Boar's hair brushes, wick up the perfect amount of liquid with gentle application
BPA-Free

Quick Tip:
To maintain a fresh and dry brush, place bristles into a cup filled with coarse salt to draw out moisture before storing them away.
Made In:
  China
UPC: 
076753220040