---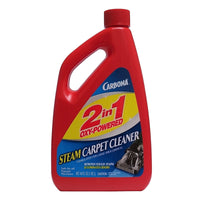 Carbona 2 IN 1 Oxy-Powered Steam Carpet Cleaner, 48 FL. OZ. 1 Bottle Each,  By Delta Carbona, L.P.
Formulated for large area carpets
Removes tough stains & eliminates odors
Safe for all popular machines 
Directions: 1. Preparation: Vacuum thoroughly to remove loose dirt. For best results, pretreat tough stains with Carbona Carpet Cleaner or Carbona Pet Stain & Odor Remover.
2. Application: For home-owned or rental machines, use 5 ounces per 1 gallon of hot tap water. Note: most leading machine tanks hold 1 gallon of water. Deep clean carpet and upholstery following the machine user guide.

Important: Do not mix bleach or other household products. Test for color fastness on a hidden section before use. Evaluate results after the test area has dried. Do not use on silk, velvet, Haitian Cotton, or fabrics harmed by water. Never soak the area treated, damage may occur. Note that certain stains may cause permanent discoloration even after cleaning. Not responsible for damage resulting from the use of products with improper machines or misuse.
Ingredients: < 5% anionic and non-ionic surfactants, oxygen-based bleaching agents. Perfumes.

Keep out of reach of children. 

Made in: Germany
UPC: 070409002233