---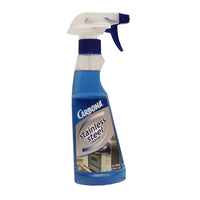 Carbona Stainless Steel Cleaner, 8.40 Fl. Oz., 1 Each, By Delta Pronatura:
No Streaks

Cleans Stainless Steel Surfaces

Contains NO Silicone Oil
Directions:
1. Using a damp cloth or paper towel, distribute the product evenly over the surface.
2. Wipe clean with a damp cloth and make sure all product residue is removed to avoid streaking.
3. Dry with a clean cloth if necessary (to avoid water stains).
Repeat steps 1-3 for the best results. Follow the manufacturer's care instructions. Not for use on aluminum or other materials not resistant to acids. Do not use on painted or laminated surfaces.
Warnings: 

Caution: Eye and skin irritant (see back label).
Harmful if swallowed.
Skin and eye irritant.
First Aid: If swallowed, drink large amounts of water. Do not induce vomiting. Call a doctor or poison control center immediately. If skin contact occurs, wash skin thoroughly with water. If eye contact occurs, flush eyes thoroughly with water. If irritation persists, call a doctor.
Keep out of reach of children.
Ingredients: Less than 5% Cationic, Non-Ionic and Amphoteric Surfactants, Perfumes, Limonene, Benzisothiazolinone, Methylisothiazolinone.
UPC: 070409003148