---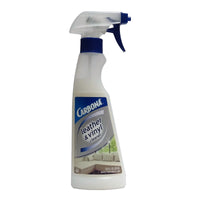 Carbona Leather & Vinyl Cleaner, 8.4 FL. OZ. 1 Bottle Each, By Delta Carbona, L.P.
Innovative formula for the safe cleaning of leather, artificial leather, or leather surfaces such as leather furniture, handbags, luggage, saddlery, footwear, and car interiors.
Cleans and removes marks, dust, dirt, and fresh common stains such as coffee, cola, and ice cream.
Refreshes colors, restores shine and prevents resoiling.
Directions:
1. Shake bottle before use.
2. Pretest product in an inconspicuous area.
3. Spray solution on a soft cloth and wipe the surface in a circular motion.
4. Buff with a fresh soft cloth for extra shine if needed.
Caution:
Spray away from eyes and skin. If in eyes, flush thoroughly with water. Call a doctor or get medical help if irritation persists. Do not take internally. If swallowed do not induce vomiting; seek medical advice immediately.
Keep out of reach of children.
Close bottle after use.
Environmental information: Surfactants are biodegradable and dermatologically tested.
Ingredients:
Under 5% cationic surfactants, perfume, preservatives.
Made in:
Germany
UPC:
070409003254