---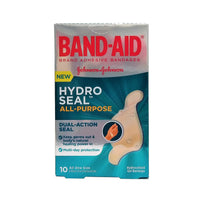 Band-Aid Hydro Seal All-Purpose, 0.78" x 2.3", 10 Ct., 1 Box Each, By Johnson And Johnson:
Dual-action seal, keep germs out and the body's natural healing power in
Multi-day protection 
10 Bandages, 0.78" x 2.3"
Hydrocolloid Gel Bandage
Ideal for all parts of the body 

Sterile unless individual wrapper is opened or damaged
Instructions:
Stop the bleeding and clean the wound; Once bleeding has stopped, ensure you clean the wound and dry it completely

Skip the ointment; To ensure the bandage properly adheres, do not apply creams, ointments, or lotions to the wound.

Seal it up; Carefully remove the white paper tabs and apply the gel bandage directly on the wound.  There is no pad

Watch it work; Within 24 hours of application the product will begin to swell and a white bubble will appear over the wound.  This signals that your body's natural healing process has begun.

Keep it on, no peeking; This bandage is designed to deliver multi-day protection.  You can wear it until it begins to detach.
Note:
These are our most advanced bandages.  They work differently than traditional bandages.
Shows it's working:  Product will swell and a white bubble will form to show the healing process has begun

Cushioning:  Provides protection and relief from painful wounds

Long-Lasting:  Stays on for multiple days, even through hand washing and showers.
Warning:
Diabetics and those with poor circulation should use this under doctor's supervision.  Do not use on deep puncture wounds, fragile skin, burns, stitches, infected areas, or on children under 2 years of age.
Made in: United States 
UPC: 381371172979