---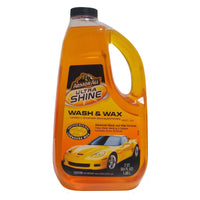 Armor All Ultra Shine Wash & Wax, 64 Oz, 1 Bottle Each, By Armor All/STP Products Company
Advanced Wash and Wax Formula
Fortified with Real Carnauba Wax
Helps with Water Beading
Delivers Incredible Armor All Shine
Reveals your paint's deep, radiant color
Directions: Use on a cool car, preferably in the shade to avoid water spotting. 1. Rinse car to remove loose dirt. 2. Pour wash concentrate into a bucket and mix with water. Use 1 ounce per gallon. 3. Wash car with a sponge, terry cloth or mitt. 4. Rinse car, the dry immediately with a soft, dry terry cloth or chamois.
Ingredients:
Anionic Surfactants. Contains no Phosphorous
Warning:
EYE IRRITANT. Avoid contact with eyes. FIRST AID: EYES- Rinse with water for 15 minutes. If irritation persists, call a Doctor. IF SWALLOWED- Drink a glassful of water. Call a Doctor or poison control center. DISPOSAL- DO NOT allow wash water to enter storm drains, lakes, steams or other bodies of water. Offer empty container for recycling. If recycling is not available, discard container in trash. KEEP OUT OF REACH OF CHILDREN.
Made In: USA

UPC: 070612103468