---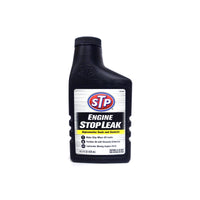 Engine Stop Leak 14.5 Fl. Oz., Case Of 6, By The Armor All/STP Products Company:
It helps stop minor leaks and lubricates moving engine parts
Engineered for synthetic and conventional oils 
Helps protect from gaskets and oil seals from shrinking, cracking, or drying out 
Helps reduce metal-to-metal contact 
A total of 6 Armor All STP Engine Stop Leak
Ingredients: Contains: Zinc dialkyl dithiophosphate.
Caution: Eye Irritant Avoid eye contact and prolonged skin contact. Keep out of reach of children.
Made in: United States 
UPC:10071153662558