---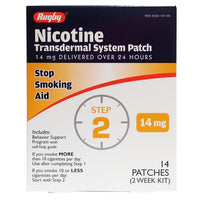 Rugby Step 2 Nicotine Transdermal System Patch 14 mg 14 Count, 1 Pack Each:
Reduces withdrawal symptoms, including nicotine craving, associated with quitting smoking

If you smoke 10 or fewer cigarettes per day: start with Step 2
Active ingredients: 
Per Patch: Nicotine 14 mg Delivered Over 24 Hours
Inactive ingredients: 
Acrylate Adhesive; Aluminized Polyester; Cellulose Paper; Methacrylic Acid Copolymer
Directions: If you are under 18 years of age, ask a doctor before use. Before using this product, read the enclosed self-help guide for complete directions and other information. Stop smoking completely when you begin using the patch. If you smoke more than 10 cigarettes per day, use the following schedule below: Weeks 1 thru 4: STEP 1 use one 21 mg patch/day. Weeks 5 and 6: STEP 2 use one 14 mg patch/day. Weeks 7 and 8: STEP 3 use one 7 mg patch/day. If you smoke 10 or fewer cigarettes per day, start with Step 2 for 6 weeks, then Step 3 for 2 weeks and then stop. Apply one new patch every 24 hours on skin that is dry, clean, and hairless. Remove backing from patch and immediately press onto skin. Hold for 10 seconds. Wash hands after applying or removing the patch. Throw away the patch in the enclosed disposal tray. The used patch should be removed and a new one applied to a different skin site at the same time each day. If you have vivid dreams, you may remove the patch at bedtime and apply a new one in the morning. Do not wear more than one patch at a time. Do not cut patch in half or into smaller pieces. Do not leave the patch on for more than 24 hours because it may irritate your skin and loses strength after 24 hours. Stop using the patch at the end of 8 weeks. If you still feel the need to use the patch talk to your doctor. TO INCREASE YOUR SUCCESS IN QUITTING: 1. You must be motivated to quit. 2. Use one patch daily according to directions. 3. Complete the full treatment program. 4. Do not use a patch for more than 8 weeks. 5. Use patch with a behavioral support program, such as the one described in the enclosed booklet and on the compact disc.
Made in: United States 
UPC: 305361107888
NDC: 0536-1107-88