---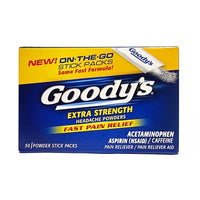 Goody's Extra Strength Headache Powders Acetaminophen, 50 Powder Stick Packs, 1 Box Each, By Medtech Products:
Temporary relief for discomfort associated with headaches, minor body aches, and fever, toothache, and menstrual cramps
Active Ingredients: Acetaminophen 260 mg, Aspirin (NAISD) 520 mg (Pain Relievers), Caffeine 32.5 mg (Pain Reliever Aid), Potassium 51 mg
Inactive Ingredients: Lactose Monohydrate, Potassium Chloride
Directions: Do not take more than directed (see overdose warning). Adults and children 12 years of age and over: Place 1 powder on tongue every 6 hours, while symptoms persist. Drink a full glass of water with each dose, or stir powder into a glass of water or other liquid. Do not take more than 4 powders in 24 hours unless directed by a doctor. Children under 12 years of age: ask a doctor. 
Made in: United States
UPC: 042037103668