---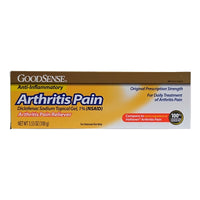 GoodSense Arthritis Pain Relieving Gel, 1% Topical, 1 Box Each, By Perrigo
For Daily Treatment of Arthritis Pain
Anti- Inflammatory Gel
Original Prescription Strength 
Medicated Gel is Clinically Proven to Relieve Arthritis Pain in the Hand, Wrist, Elbow, Foot, Ankle, And Knee
Not for use on any other body area ( such as the back, hip, or shoulder)
Directions:
For arthritis pain only. Use 4 times a day. May take up to 7 days to work for your arthritis pain. For use on no more than 2 body areas Use up to 21 days unless directed by your doctor.
Warning:
For external use only Allergy alert: Diclofenac may cause a severe allergic reaction, especially in people allergic to aspirin. Symptoms may include hives, asthma (wheezing), skin redding, blisters, facial swelling, shock, or rash. If an allergic reaction occurs, stop using it and seek medical help right away.
Liver Warning:
This product contains diclofenac. Liver damage may occur if you apply more or for a longer time than directed. When using other drugs containing diclofenac
Stomach bleeding Warning:
This product contains an NSAID, which may cause severe stomach bleeding. The chance is small but higher if you are age 60 or older, have stomach ulcers or bleeding problems, take a blood thinning (anticoagulant) or steroid drug, or take other drugs containing prescription or nonprescription NSAIDs (aspirin, Ibuprofen, naproxen, or others). Have 3 or more alcoholic drinks every day while using this product, and apply more or for longer than directed.
Heart Attack and stroke warning:
NSAIDs, except aspirin, increases the risk of heart attack, heart failure, and stroke. These can be fatal.
Do Not Use:
if you have ever had an allergic reaction to any other pain reliever or to a fever reducer. Or for strains, sprains, bruises, or sports injuries. This product has not been shown to work for these types of injuries.
If pregnant or breastfeeding, ask a health professional before use.
Keep out of reach of children.
 In case of an overdose, get medical help or contact a Poison Control Center right away (1-800-222-1222).
Active Ingredients:
Diclofenac sodium (NSAID*) 1% (equivalent to 0.93% diclofenac)....Arthritis pain reliever
Made in:
USA
UPC:
301131189016