---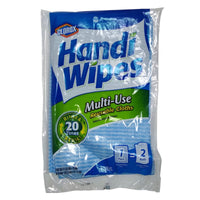 Clorox Handi Wipes Multi-Use Reusable Cloths 6 Count, 1 Bag Each, By The Clorox Company
Use all around the house 

Rinse and reuse up to 20 times

Superabsorbent and multipurpose uses

Machine washable, so they can be used again and again

Reusable, durable, dry cleaning cloths

 Buy fewer and use less of the environment's resources, making Handi Wipes an economical and environmentally-friendly choice.
Use
Handi Wipes cloths again and again to wipe, clean, scrub, polish, or dust.
Dishes, cars, stoves, windows, shoes, bathrooms, furniture, computer, sporting equipment, sliver, countertops, refrigerators, electronics, outdoor furniture, and more.
Usage Instructions:
Use, rinse or machine wash, air dry, and reuse. Each cloth can be reused at least 20 times!
Disposal:
Discard wipes in trash. DO NOT flush in toilet.
Made in:
USA
UPC:
012587031001