---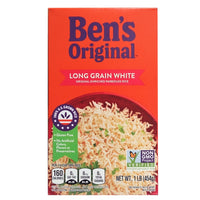 Ben's Original Long Grain White Original Enriched Parboiled Rice, 1 lb., 1 Box Each, By Mars Food
Gluten-Free
No Artificial Colors, Flavors, or preservatives
Enriched Parboiled Long grain Rice supports a healthy heart & a well-balanced diet
Enriched with vitamins and iron
Directions:
For best results, use the stovetop cooking method: Combine rice, water, and butter (optional) in a saucepan. Bring to a boil. Reduce heat (medium, medium-low) and simmer covered 20 minutes. Remove from heat. Let stand covered for 5 minutes or until water is absorbed. Fluff with a fork and serve.
Nutrition facts:
10 servings per container

Serving Size
1/4 cup dry rice (45g) (about 1 cup cooked)

Amount per serving
Calories   160
Amount per Serving                     % Daily Value*
Total Fat 0g                                          0%
Saturated Fat0g                                   0%
Trans Fat0g
Polyunsaturated Fat0g
Monounsaturated Fat0g
Cholesterol 0mg                                   0%
Sodium 0mg                                         0%
Total Carbohydrate 35g                      13%
Dietary Fiber 0g                                    0%
Sugars0g                                               0%
Protein 4g
Vitamin D 0mcg                                    0%
Calcium 60mg                                       4%
Iron 2.1mg                                           10%
Potassium 70mg                                    0%
Thiamin 0.3mg                                     25%
Niacin 3.3mg                                        20%
Folate 100mcg DFE (60mcg folic acid) 25%
* The % Daily Value (DV) tells you how much a nutrient in a serving of food contributes to a daily diet.
Made in: USA
UPC: 054800423545