---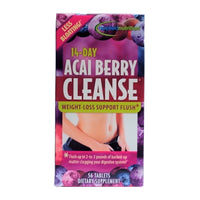 14-Day Acai Berry Cleanse Dietary Supplement Tablets, 56 Count, 1 Box Each, By Applied Nutrition
Cleansing Flush Blend supplies a powerful botanical combination, including Cascara Sagrada, Slippery Elm, and Ginger.


Gently flushes away excess waste & can help enhance healthy intestinal function.

Acai Cleanse Blend Delivers a combination of superfruits, including Blueberry, Mangosteen, Pomegranate and Lychee, and Acai.

Scientifically formulated to clean your digestive tract
Eliminate any excess matter that could be clogging your system 
In just days, you can experience increased regularity, reduced bloating & a flatter abdomen 
Directions: (Adult) Take two (2) tablets in the morning prior to breakfast and two (2) tablets in the evening, prior to bedtime. Drink a full glass (8oz) of water with every two tablets. Do not exceed four (4) tablets per day. If stools are loose, reduce tablet intake from four (4) to three (3) per day.

Supplement Facts
Serving Size: 2 Tablets
Servings Per Container: 28
Amount Per Serving                                              %Daily Value
Calories 5
Total Carbohydrates 2 g                                       <1%**
Calcium (as Calcium Carbonate) 88 mg                  7%
Sodium 10 mg                                                       <1%
Acai Cleanse Blend
Acai (Assai Palm) (Euterpe oleracea) extract (4:1) (fruit), Blueberry (Vaccinium angustifolium) powder (fruit), Cranberry (Vaccinium macrocarpon) powder (fruit), Milk Thistle extract (seed), Litchi (Lychee) extract (fruit), mangosteen powder (fruit), Pomegranate powder (seed) 837 mg †                                                                            
Cleansing Flush Blend
Cascara Sagrada powder (bark), Slippery Elm powder (bark), Ginger powder (root) 605 mg †                                                                                                                      
**%Daily Value based on a 2,000 calorie diet
†Daily Value not established
Other Ingredients: Microcrystalline Cellulose, Croscarmellose Sodium, Stearic Acid, Silicon Dioxide, Magnesium Stearate, Maltodextrin

Usage Warnings: Do not use if the safety seal is broken. Check with your doctor before using this product if you are using a medication, including diuretics, heart medications, and corticosteroids, or have any medical conditions. Do not use if you have an intestinal obstruction, hemorrhoids, or other intestinal disorder. Do not use if you are taking any other product concurrently that has laxative effects. Do not use if you may become pregnant, are pregnant, or nursing. Do not exceed recommended daily intake. Not intended for use by persons under 18. KEEP OUT OF REACH OF CHILDREN. Store in a cool, dry place. NOTE: This product is not intended to be used without breaks. Cascara Sagrada belongs to a family of plants containing compounds with laxative effects. Can lead to dehydration and electrolyte loss. With long-term use without breaks, this ingredient may interfere with diagnostic imaging procedures of the colon. Taking a break of 30 or more days between use cycles will help maintain natural regularity. Not intended for long-term use. WARNING: (State of California Prop 65) This product contains a chemical known to the State of California to cause birth defects or other reproductive harm., NOTICE: This product contains Cascara Sagrada. Read and follow the directions carefully. Do not use if you have or develop diarrhea, loose stools, or abdominal pain because Cascara Sagrada may worsen these conditions and be harmful to your health. Consult your physician if you have frequent diarrhea or if you are pregnant, nursing, taking medication, or have a medical condition.

Made in: USA
UPC: 710363572846